Tree Trimming & Pruning Bentonville AR
Tree Trimming and Pruning Services 
Trees N Scapes Unlimited is the leading provider of quality and affordable tree trimming and pruning services in Bentonville, AR and the surrounding areas. Contact us today at (479) 802-5766 for a free consultation and a no-obligation quote.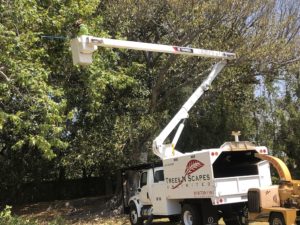 Regular trimming and pruning play a crucial role in maintaining the health and appearance of your trees. In addition to enhancing the curb appeal of your property, properly trimmed and pruned trees are less likely to succumb to storm damage or disease, which can help reduce the risk of injury and protect you from costly property damage.
At Trees N Scapes Unlimited, we have decades of experience providing residential and commercial property owners in Arkansas with superior tree trimming and pruning services. We trim and prune trees of all sizes with precision and accuracy, using the most up-to-date tools and techniques in the tree care industry.
Importance of Regular Tree Trimming and Pruning
The frequency of trimming and pruning will vary depending on the type of the tree, its age, and the environment in which it is growing. Generally, however, trimming and pruning should be done at least once a year (more often for trees that are prone to disease or storm damage).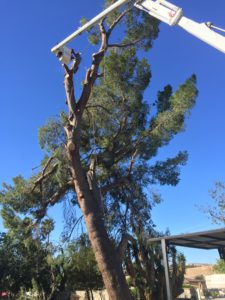 Here are some of the reasons why you should schedule regular tree trimming and pruning services:
Improves Safety – A well-maintained tree is less likely to fall without any warning. By removing dead branches and excess growth, you reduce the chance of a devastating incident that could injure people on your property or beyond (by falling into neighboring yards or onto busy streets).
Enhances Curb Appeal – A neatly trimmed and pruned tree is more attractive than one that is overgrown and unkempt. A well-manicured tree can also add value to your home or business and make it more appealing to potential buyers if you ever decide to sell your property.
Promotes Healthy Growth – Regular tree trimming and pruning can stimulate new growth, which can help the tree to grow stronger and more resistant to pests and diseases. In addition to keeping your trees looking their best, trimming and pruning can also help them live longer.
Contact Trees N Scapes Unlimited Today for Quality Tree Trimming and Pruning Services
If you need a reliable and experienced provider of tree trimming and pruning services in Northwest, AR, look no further than Trees N Scapes Unlimited. We offer a full range of tree care services designed to meet the needs of both residential and commercial customers.
At Trees N Scapes Unlimited, our professional tree trimming and pruning services include:
Tree Cleaning – Removal of dead or excess branches to improve the appearance and structure of the tree.
Tree Thinning – Selective removal of limbs and branches to increase the flow of light and air as well as improve the tree's overall appearance.
Tree Reduction

– Trimming away excess growth to reduce the height of the tree and provide vertical clearance for buildings and power lines.

Tree Raising – Removal of low-lying limbs to provide clearance for vehicles and pedestrians.
At Trees N Scapes Unlimited, you can count on our team of certified tree experts to provide safe, high-quality tree trimming and pruning services that will improve the health and appearance of your trees. Call us today at (479) 802-5766 for more information or to schedule a free consultation. We look forward to hearing from you. 

Over the years Trees N Scapes Unl. has worked with many clients and has always provided affordable rates, safe and efficient methods, always responsible and stand behind our name.