Tree Removal Bentonville AR
Tree Removal Service
If you need to remove unwanted trees from your residential or commercial property, Trees N Scapes Unlimited is the company to call. We have the skills, experience, and equipment necessary to safely and efficiently remove trees of all shapes and sizes. Contact us today at (479) 802-5766 to learn more about our fast tree removal service in Bentonville, AR.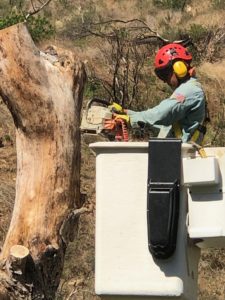 There are many reasons why you may need to remove trees from your property. Dead or dying trees can fall at any time, potentially causing serious injury or extensive property damage. Trees that are growing too close to homes or buildings can also be dangerous, and they may need to be removed in order to maintain the structural integrity of your property.
No matter the reason behind your tree removal project in Bentonville, AR, you can rely on our team at Trees N Scapes Unlimited for the safe and efficient removal of unwanted trees from your residential or commercial property. We'll work with you to develop a plan that meets your specific needs and budget, and we'll always take the necessary precautions to protect your home or business during the tree removal process.
Signs That Your Tree Needs to Be Removed
If you notice any of the following signs, it is best to call a certified tree expert to inspect your tree and determine if it needs to be removed:
Insect infestation (termites and carpenter ants)

Rotting or splitting bark

Cracks in the trunk of the tree, especially near the ground

Multiple broken branches throughout the tree's canopy

Dead or dying branches near the top of the tree

Leaning or unstable trees

Creaking or cracking sounds from the tree

Appearance of mold or fungus on the trunk of the tree

Thinning of the tree's foliage
In addition to issues related to tree health, there are few other reasons why you may want to have a tree removed from your property. For example, if a tree is blocking the sun from your home or garden, removing it can help improve your outdoor living spaces. Meanwhile, if a tree is growing too close to a power line or other structure, it may need to be removed for safety reasons. Furthermore, you may also need to remove trees to make way for a new construction or landscaping project.
Why Choose a Professional Tree Removal Service?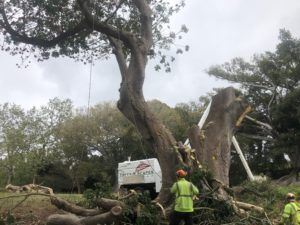 Tree removal may seem like a big expense, but it is a specialized service that should only be performed by certified and insured professionals. There are many risks associated with removing trees, including falling branches, unstable trunks, and electric shock. Not only that, but trees also play an important role in the environment. Removing a tree has serious consequences for wildlife (especially nesting birds), soil erosion, hydrology (water usage and runoff), and so much more.
Before cutting down trees, it is also very important for property owners to understand their legal obligations when it comes to tree removal. Some communities have specific ordinances (in addition to standard building codes) that require property owners to seek permission before removing trees. To avoid fines or other legal consequences, it is highly recommended to seek help from a professional tree removal service before cutting down a tree.
After all, tree removal is not a DIY project that should be taken lightly. It is a highly specialized service that must only be performed by trained and experienced tree removal professionals. At Trees N Scapes Unlimited, you can rest assured that our certified tree experts use state-of-the-art tools and equipment to safely and efficiently remove unwanted trees from your property. We are also capable of working on all kinds of terrains and handling even the most complex tree removal projects.
Contact Trees N Scapes Unlimited Today
At Trees N Scapes Unlimited, we understand the importance of trees in the environment and our communities, that's why we always try our best to save and protect them whenever possible. However, there are times when tree removal is the only option to ensure the safety of your family, property, and other people around it. 
Whether you need a single tree removed or a complete yard overhaul, Trees N Scapes Unlimited has got you covered. If you have any questions about our tree care services or would like to get a free quote for your next tree removal project, give us a call at (479) 802-5766 today. One of our tree experts will be happy to answer any of your questions and help you choose the right service for your needs.

Over the years Trees N Scapes Unl. has worked with many clients and has always provided affordable rates, safe and efficient methods, always responsible and stand behind our name.