Land Clearing Bentonville AR
Land Clearing Service
Whether you need a single tree removed or an acre of land cleared, Trees N Scapes Unlimited has you covered. We have the skills, equipment, and manpower to work on both residential and commercial land clearing projects in Bentonville, AR. As a locally owned and operated company with decades of experience in the industry, we've got what it takes to complete any land clearing job quickly and efficiently. Contact us today at (479) 802-5766 for a free estimate.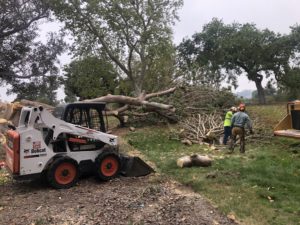 Congratulations on purchasing your new property in Bentonville, AR. You're probably eager to start building your dream home or business, but before you can do that, chances are you need to clear your land first. This is often a daunting and tedious task that involves removing trees, rocks, stumps, and other types of debris. Luckily, our team of tree professionals can help you with all of your land clearing needs.
At Trees N Scapes Unlimited, we are experts in both residential and commercial land clearing projects and can work on flat, heavily wooded, steep, and hilly terrains. Whether you need us to trim or remove trees from your property, clear away rocks and brush, or grind pesky roots and stumps, you can count on us to get the job done right with very minimal disruption to your property.
Reasons for Hiring a Professional Land Clearing Company
Here are some of the reasons why you should hire a reputable land clearing service in Bentonville, AR to help you with your land clearing project:
Save Time and Energy
Land clearing projects can be a nuisance because they involve a lot of hard work. Even with the use of heavy machinery, land clearing requires a tremendous amount of time, effort, and energy. It also tends to leave behind a huge mess that needs to be cleaned up.
Fast and Efficient
When you choose a professional land clearing service, you can save a lot of time and effort because they have the right equipment and manpower to carry out this type of work. In addition, they have the skills and experience to deal with any kind of land clearing job, so you can expect them to do the job quickly and efficiently.
Minimal Disturbance to Your Property
Since land clearing companies have all the necessary equipment and manpower, they can work in extreme conditions without causing much disruption to your property. This means that you don't have to worry about dangerous conditions or obstacles getting in the way of your project.
Proper Waste Disposal
After the land clearing is done, you are left with a lot of debris that needs to be removed. This can get very messy and costly if not done properly. When you hire a reputable land clearing service for your project, they have the necessary equipment and resources to dispose of waste materials in compliance with local rules and regulations.
Reduced Risk of Injury
Land clearing projects are physically taxing, which means that there is a high risk of injury when you choose to do the work by yourself. Professional land clearing services employ only trained and experienced professionals who are capable of providing a safe work environment for everyone involved.
The Best Land Clearing Service in Bentonville, AR
If you need fast, efficient, and reliable land clearing services in Bentonville, AR, Trees N Scapes Unlimited is the company to call. We have been in the industry for decades and are fully committed to ensuring that all of our clients receive exceptional customer service and quality workmanship.
We also offer some of the most competitive rates in the area, so you can get your land professionally cleared without burning a hole in your pocket. Plus, we are fully licensed, insured, and bonded so you can rest easy knowing that your residential or commercial property is in good hands.
Contact Trees N Scapes Unlimited Today
Trees N Scapes Unlimited is the only name you need to know when it comes to professional land clearing services in Bentonville, AR. We have a proven track record of providing excellent customer service, high-quality workmanship, and competitive rates.
To learn more about our services, contact us today at (479) 802-5766. You may also use our online contact form to schedule a free consultation or request a no-obligation quote.

Over the years Trees N Scapes Unl. has worked with many clients and has always provided affordable rates, safe and efficient methods, always responsible and stand behind our name.